USPS Commercial Plus Pricing. Saving for up to 48% on shipping.
Multiorders users automatically get USPS shipping capability. Commercial Plus Pricing always applies and discounts your shipping 48% at all time. No need to have high monthly volume. No need account registration. Rates are always at the lowest price. Just login and ship your orders. After you generate USPS labels, tracking number automatically updates to sales channel.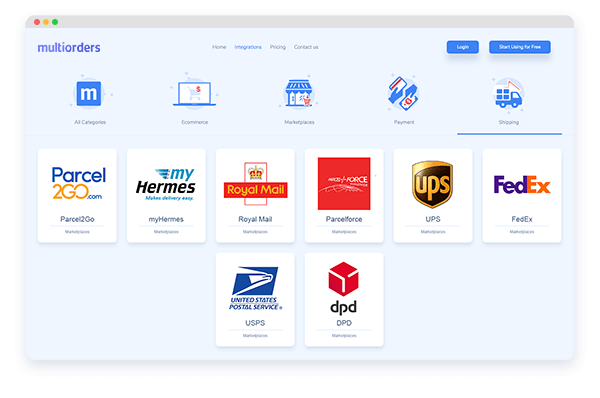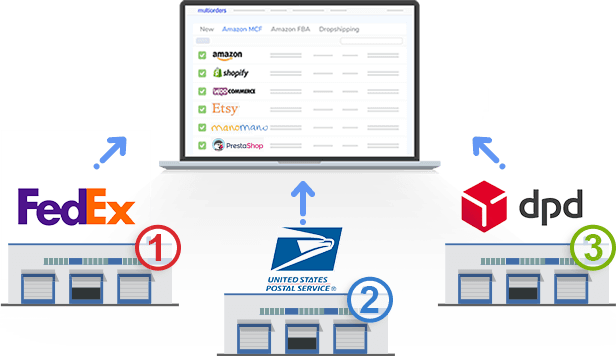 Multiple Shipping Accounts
Connect all of your shipping carriers to one place, print labels and ship orders in just a few clicks for all your sales channel accounts with multiple carriers.
Multiorders will automatically update marketplaces with all of the shipping information, including tracking info. You can instantly update inventory levels and pricing across all your channels from Multiorders.
Minimize your shipping expenses with multiple carriers. You can integrate popular carriers like UPS, Parcel Force, Royal Mail, MyHermes, USPS, DPD UK, Fedex and Parcel2Go.
Print USPS Labels for Your orders with one click. No longer waste your precious time copying address details one by one. Select Order -> Select Carrier -> Print Label.

Automatically update orders with USPS shipping details (Tracking Code). No need for manual oversight as Multiorders will handle all tracking details.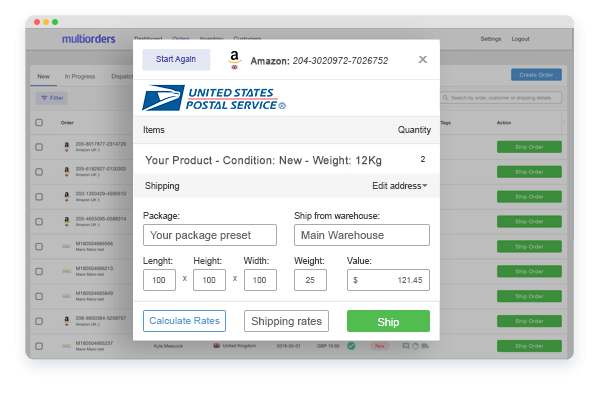 You can setup your shipping presets to save time. It is a pre-filled form with information like: package size, weight, shipping carrier and shipping address. For example = carrier – USPS, package 10 x 10 x 10 cm, weight – 5kg. You can have unlimited presets with different carriers.
Connect all Sales Channels
You can connect every sales channel you have to Multiorders and manage shipments, stock levels and pricing from a single window. Multiorders is a time saving solution that supports all of the most popular integrations like Amazon, Ebay, Shopify, WooCommerce, Magento, SquareSpace, Etsy and many more.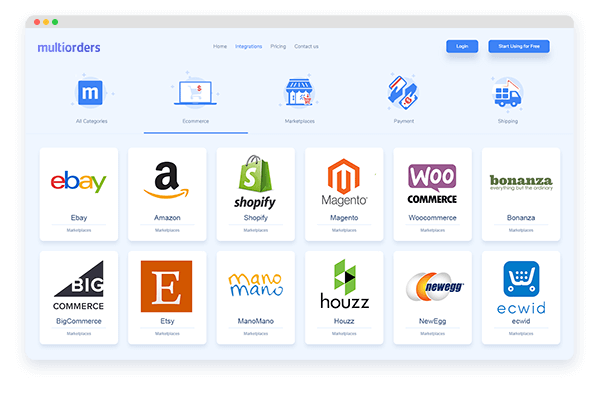 Allocate your orders to individual team members, who will be informed about awaiting shipments by email. You can also leave notes for your team and limit their app functionality if necessary.
Bundle related items to form a single product. This offer business owners a great opportunity to sell more and manage your inventory effectively and accurately.
You can easily fulfil all of Your orders, from all marketplaces with Amazon FBA stock. In other words you can use Multichannel Fulfilment by Amazon with Multiorders. Also You will see Your FBA order stock on Multiorders.