Every business that sells physical products on eBay needs to print shipping labels. It's the same for both large and small business owners. They all still need to print shipping labels if they want to ship an order. Therefore, whenever your business reaches high demand, it becomes hard to manage the shipping process. That is why, in this article you will find all the necessary information about shipping labels for your eBay orders.
Printing shipping labels on eBay
eBay has a feature that allows you to print eBay shipping labels for your orders directly on their platform. When you do it this way, you get discounted rates and can save money when compared to post office prices. If you want to print multiple copies, you can only do this for 24 hours.
The benefits of printing labels on eBay
First of all, you do not need to leave your house. Secondly, you can print a shipping label on normal paper and tape it to the parcel. Of course, you can also purchase the adhesive sheets and print shipping labels on them, though you may need a special shipping label printer for that.
Then, you can add an order number or any other custom text to your label. However, every time you need to perform this action manually. Additionally, when you print shipping labels at home, you can easily add the requirement for signature on delivery. The tracking information, in this case, is uploaded automatically.
You can print FedEx, USPS or UPS shipping labels from the "Sold" section in "My eBay".
Disadvantages of printing labels on eBay
The most common disadvantage when you choose to print labels on eBay is the amount of time it takes. Printing labels on eBay is a very easy task until you have hundreds of orders. Suddenly, you realise that preparing items for shipping takes a lot of time and overhead rises significantly because of it. Therefore you should think about possible alternatives to it, such as shipping management software.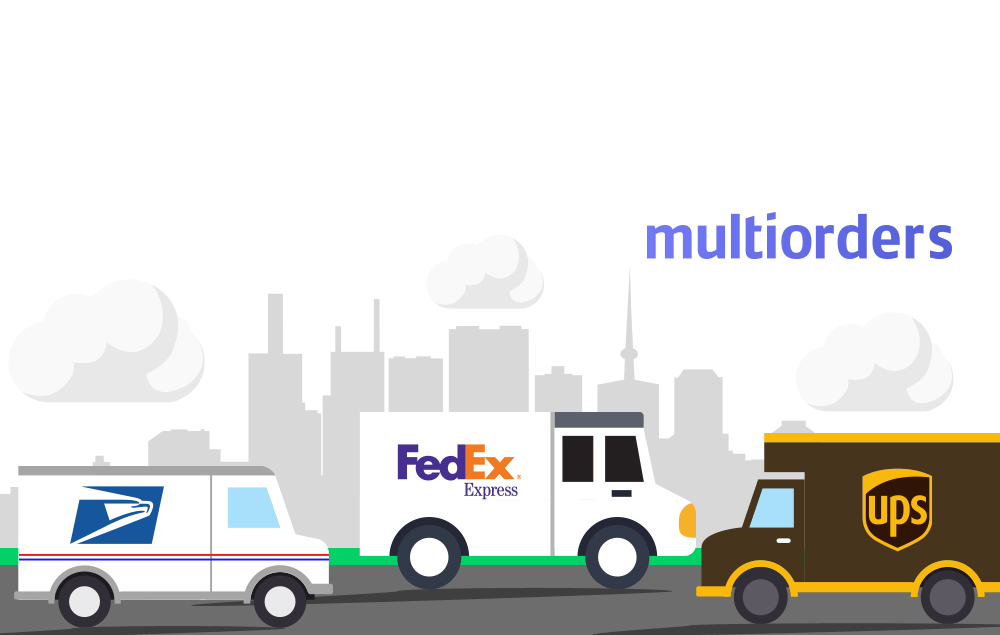 Alternatives for printing eBay shipping labels
To easily print shipping labels at home or in the office, you should use Multiorders. This software allows you to print multiple copies of the same shipping label for any of your eBay orders. If any of the shipping details change before you dispatch your shipment, you can simply edit them and print the label again.
What is even better, together with shipping labels, you can print all the other necessary documents. These include invoices, returns forms, picklists and delivery notes.
Multiorders shipping management software can streamline your Ebay shipping label creation process. It enables you to choose which information to show on your shipping labels and print them in only a few clicks. This can lead to a more efficient shipping process and significantly reduce costs.
Benefits of using an alternative
With Multiorders you don't need to print a label for each order separately. You can select multiple orders, choose Bulk Shipment, get your shipping labels ready to print and update the order status on eBay at the same time. What used to take a very long time, now only needs a few minutes.
If you want to have cluster-free shipping labels, you can adjust what information is displayed in the "Shipping" section of the app settings. For example, you can print a custom label with just the delivery and the return addresses.
Multiorders enables you to manage the shipping process from multiple stores on one dashboard. This means that you can print labels from multiple stores at once.
Moreover, you can choose from a large selection of carriers. They can ship your parcels anywhere around the world. Since Multiorders closely collaborates with all the major carriers, you will always be able to find the best price and service quality. All you need to do is connect your account form any shipping carrier you work with.
Additionally, when you start using Multiorders shipping management software you can easily print labels with USPS. As a bonus, Multiorders offers USPS Commercial Plus Pricing with all the plans. There are no restrictions or hidden conditions for this service.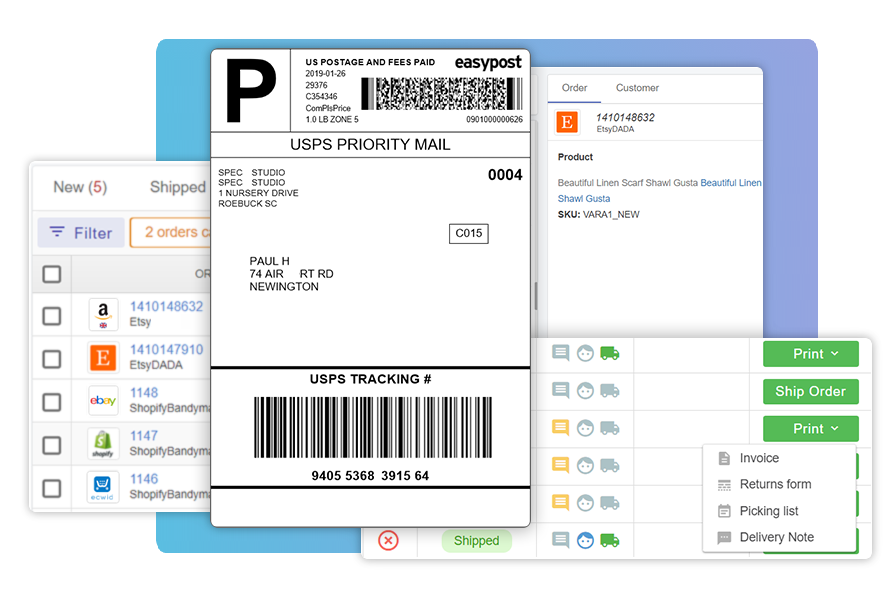 Most importantly, Multiorders does not limit the number of carrier account integrations. It means that you can ship each parcel with a different carrier if this is what you want.
Since almost all shipping carriers require different formats of shipping labels, you can choose from multiple templates. When you ship your order, Multiorders will automatically update the order in your store with the necessary shipping information.