As soon as online seller finds a way to fulfil their orders, everything gets easier. Online businesses, which chosen to ship their goods with USPS, already know about their benefits. Despite that, everyone is seeking for some kind of improvement. Especially when we are talking about shipping quotes. Most likely everybody's heard of USPS Commercial Plus Pricing. It is one of the most cost-effective ways to ship your items with a trustful company. For your convenience, we found a solution how to get USPS Commercial Plus Pricing for free.
What is USPS Commercial Plus Pricing?
One of the oldest and best-known shipping carriers USPS may offer you services with a very competitive pricing. USPS Commercial Plus Pricing provides highly discounted postages rates. In other words, cheap shipping quotes for high volume shippers. The thing is that usually, it takes entering into a Customer Commitment Agreement or by meeting designated volume thresholds, which are –
5,000 pieces of First Class Package Service

50.000 pieces of Priority Mail

5,000 pieces of Priority Mail Express
It is obvious that your shipping rates usually depends on your shipping volume. Additionally, for smaller online sellers it became a difficult task to gain these numbers. Also, despite the business size, there are always some better and worse months. So, to avoid all these restrictions we found a solution to get USPS Commercial Plus Pricing For Free.
How to get USPS Commercial Plus Pricing for free?
The only way to get the best shipping rates is with a third-party help. Connecting with a shipping management software Multiorders gives USPS Commercial Plus Pricing for Free. Despite all other competitive advantages you will gain with our services, there are no limits for shipping volume. In other words, there are no restrictions for selling at least 5,000 or 50,000 items. Multiorders provides all online sellers with USPS Commercial Plus Pricing.
As mentioned before Multiorders integration with USPS, also offers you more than the best shipping rates. It also automates your business:
Automated USPS shipping
Tracking numbers & Print labels
All sales channels
Inventory management
Single dashboard
Automated USPS shipping
USPS Commercial Plus Pricing and all orders fulfilment with a few clicks! As soon as you receive an order, simply click on USPS shipping carrier's logo, and Multiorders will do the rest. Because of multiple integrations, all order's data is auto-synced. Which means, that there is no need to add each parcels measurements or customer details. All your online selling data can be connected to one website!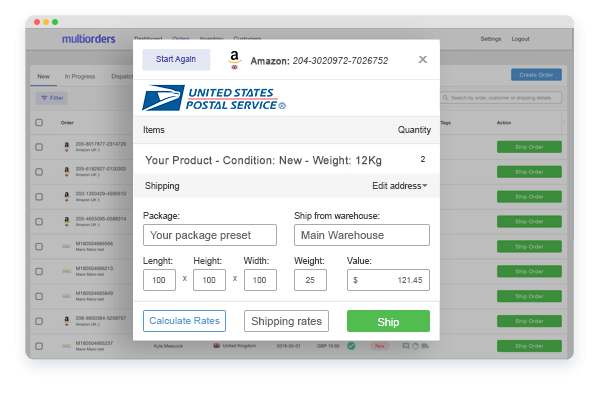 Tracking numbers & Print labels
By saying that Multiorders will take care of all order fulfilment, also we have in mind all shipping information. Automatically mark your order as dispatched on all platforms with tracking numbers. Because of USPS shipping integration, the system automatically adds tracking information to each marketplace and additionally informs your customer. That way, an online seller won't need to check and update any shipping information. Also, easy printing of USPS labels for all your orders.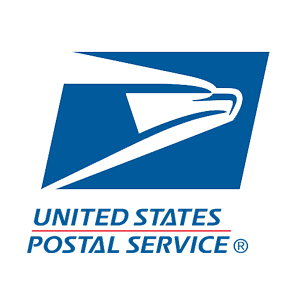 All sales channels
USPS Commercial Plus Pricing and automated shipments cames from multiple sales channels integrations. In other words, Multiorders has integrations with all of the most popular marketplaces and e-commerce platforms. It allows to automatise all shipment, by auto-syncing all parcel's data. Also, you are able to connect different accounts of the same marketplace. For example, if you are having a few eBay accounts, simply connect them all in Multiorders!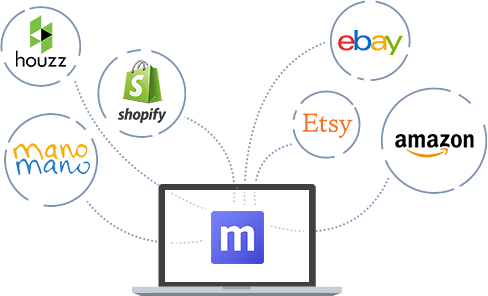 Inventory management
Multiorders inventory is adjustable to each sales channel. In other words, you can connect multiple marketplaces and control all inventory in one place. All changes, which you make in www.multiorders.com will instantly appear on each e-shop. It is a time-efficient way to modify stock-levels, pricing, etc. To sum up, you can ship with USPS Commercial Plus Pricing and automate your order fulfilment with a single order system.