There are plenty of ways to expand your online business. Not to mention that you can choose from multiple marketplace options. A convenient way is to choose a popular sales channel – Shopify, which powers more than 500.000 businesses. Whenever you work with a well-known e-commerce platform, chances are, you will be flooded with orders. Despite that, you still need to find a cost-efficient way to fulfil all those orders. To help you, in this article, we will explain to you how to complete Shopify shipping.
Shopify management
First of all, it is important to mention that Shopify is not only a marketplace. It provides you with a hosting possibility, as well as with a domain. In other words, you can personalize and set up your whole storefront. Also, Shopify invented a mobile app which allows you to always keep an eye on your inventory.
Shopify shipping
Despite all convenient tools to personalize your Shopify store, you still need to deal with shipping. This e-commerce platform does not have their own shipping carriers. However, they offer three different collaborations:
Of course, all these three options include lowest shipping rates, printed labels and flexible shipping options :
DHL. Low DHL Express rates. Ship without minimum shipping volume or additional fees. Also, deliver to over 220 countries with express international shipping. The collaboration includes delivering within two days and automated shipments.
UPS. Low UPS rates – savings up to 52%, without minimum shipping volume or additional fees. Ships any day of the week, including Saturdays. Also, allows UPS My Choice delivery method.
USPS. Low USPS rates. No minimum shipping volume or additional fees. Also, includes label printing for all companies and automatically sends tracking information.
It is important to mention that these shipping rates are available only for those online sellers, who use the Advanced Shopify plan or an even higher tier plan. In other words, this possibility has additional costs. On the other hand, you can choose other shipping methods. For example, search and choose your own shipping carrier. Most likely, in this manner, you will save extra money, but lose your time searching for the most convenient shipping company. Inefficient shipping and multitasking through different websites might lead you to the main e-commerce problem.
The main e-commerce problem – late shipments
As we all know, online shopping is based on a feedback and comments system. In other words, the shopper is not able to physically touch or try an item, so all they can trust are the responses. So, the online seller needs to maintain their public image as good as possible. The biggest threat, which will devastate your reputation is a late shipment. According to customers, it is the most irritating issue, which forces them to leave negative feedback. The way to avoid this is to automate your order fulfilment.
Automated Shopify shipping
The cost-efficient way to ship your orders faster is to use a shipping management software. Multiorders has integrations with all of the most popular shipping companies. In other words, there is no need to be charged extra for a Shopify plan and choose only from three shipping carriers. Multiorders offers all these shipping options: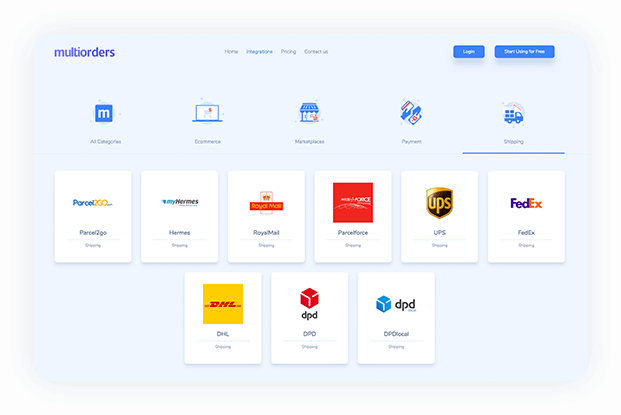 As soon as you process your order, all shipment tracking data is auto-synced. Multiorders automatically adds tracking information to each marketplace and additionally informs your customer. That way, the online seller won't need to check and update any shipping information.
The Multiorders dashboard also allows you to print labels from any shipping carrier in bulk for all your orders.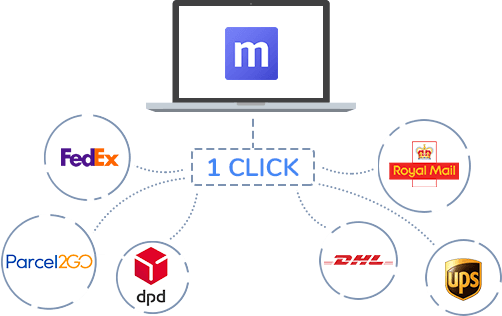 Shopify inventory and shipping management
Multiorders created an adjustable inventory management system for Shopify. In this manner, you can change your stock-list, pricing or product description and it instantly appears in your marketplace. Also, you can make changes in bulk, without switching from one product to another.
No to mention that Multiorders also has integrations with all other sales channels. You can connect them all and fulfil your orders in one place. A time-efficient way to all inventory management, shipments and orders.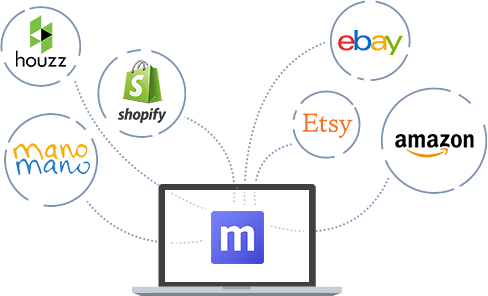 Simplify your Shopify shipping by:
Avoiding bad reputation
Creating a perfect workflow
Automating inventory management
Connecting all shipping companies
Cost-efficient way – Multiorders