Shipping is an essential part of e-commerce order fulfilment. Each online seller has to figure out how to send their goods to customers. Of course, the priority is to find a cost-efficient way to do it. Parcel2GO is offering one of the best shipping rates for all their users. Despite your parcel value or business size, they offer you competitive pricing. In this article, we will explain about Parcel2GO inventory management, by pointing out a way to simplify it.
Parcel2GO - what is it?
Parcel2GO became the first option for nearly all small online business. Their shipping quotes are the main reason for their popularity. Because usually, a lot of shipping carriers specialise in domestic deliveries, setting quotes for products in bulk. Meanwhile, online sellers, many of which, are looking to send only one or two parcels, get pretty expensive shipping quotes. Parcel2GO offers competitive pricing, which does not depend on the number of your parcels.
Parcel2GO - how it works?
First of all, Parcel2GO has a really convenient system - first, you need to fill the quote form with the measurements of your parcel. Then simply choose the most suitable shipping quote - depending on price or a particular service. Finally, you can choose to drop off your parcel at a local depot or select courier pick up.
Parcel2GO labels
Despite that Parcel2GO offers competitive pricing and they work with multiple shipping carriers. You can choose from the world leading companies, such as - DPD, Hermes, Parcelforce, UPS and others. Moreover, in Parcel2GO you can get printing labels from all shipping carriers.
Parcel2GO inventory
Parcel2Go allows connecting your sales channels, to complete shipping through the Parcel2GO website. They have integrations with Amazon, eBay, Shopify, Magento, Etsy, WooCommerce and others. It synchronises with a marketplace and auto-syncs items and customer data.
Parcel2GO order management
As mentioned before Parcel2GO provides competitive shipping quotes from the best shipping carriers, as well as integrations with many sales channels. They collect your parcel or offer a drop-off method. Also, they allow you to print your own labels. However, there is one thing missing - order management. Despite the fact that Parcel2GO simplifies shipping, you still need to use several platforms to complete your order. Additionally, it takes time to process each order using at least two websites. On the other hand, there is a way to automate this time-draining multitasking. Our management software, Multiorders, allows you to control your inventory, as well as shipping through Parcel2GO in one place.
Parcel2GO inventory management
Multiorders has integrations with all of the most popular sales channels, which you can connect with Parcel2GO inventory management. In this manner, you can fulfil your order in one place. Multiorders inventory is adjustable to each sales channel. In other words, all changes, which you make in www.multiorders.com will instantly appear on each e-shop. A time-efficient way to modify stock-levels, pricing, etc.
Control Parcel2GO shipping with all sales channels
With our management software's help, you can connect different sales channels, and with a few clicks - ship it with Parcel2GO. Forget about the endless struggle of processing each marketplace's parcel separately. Simplify your daily tasks, by using a single system for your orders. Connect all your marketplaces and control all shipping: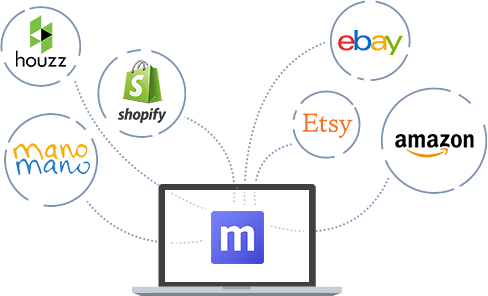 Automate Parcel2GO shipping
Automatically mark your order as dispatched on all platforms with updated tracking numbers. Because of the Parcel2GO shipping integration, the system automatically adds tracking information to each marketplace and additionally informs the customer. That way, a wholesaler won't need to check and update any shipping information.
---