The main goal of inventory management software is keeping the right amount of stock at any terms. However, this is easier said than done. It involves demand forecasting, negotiating with suppliers, shipping times, keeping safety stock and many other ideas or formulas.
In its essence, every feature of an inventory management software does that. That's why it's there in the first place. However, let's take a look at the most notable ones.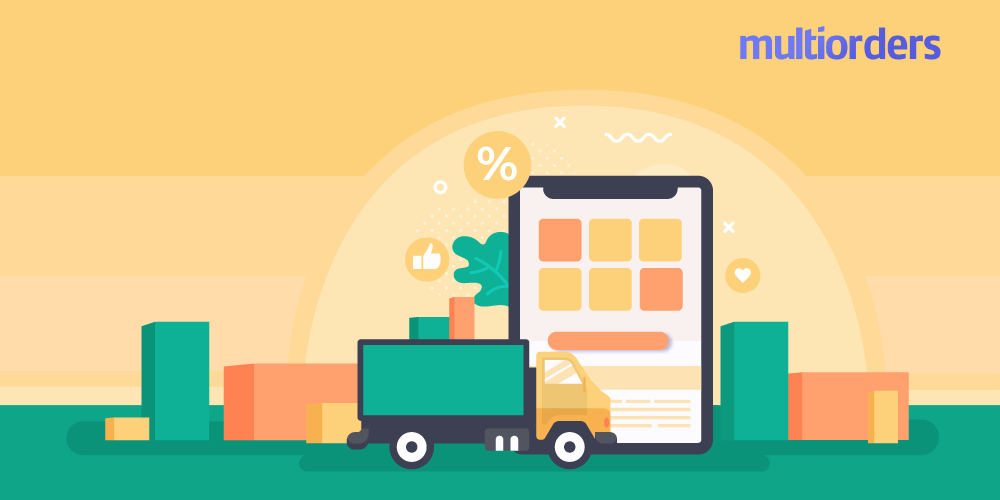 Inventory management software
Multiorders inventory management software is browser-based. Meaning, whenever you have an internet connection on a device with a browser – you have full access to manage your business.
While it's surely a more enjoyable experience to manage your business through a computer, having the option to check up through your phone or tablet is convenient. The benefits of having mobile access to the inventory management app depends on the type of ecommerce business you run:
If you have physical inventory to ship from your workplace, there's still plenty you can do on-the-go. Check reports, compare how your sales channels are doing, create a work schedule based off of existing order count and more.
If you have no physical inventory (dropshipping), you're able to process orders right then and there. This is in addition to all the previously mentioned points.
Product reports
Reports show how your business is doing. Analysing performance reports is essential to keeping the right amount of inventory. Reports help you forecast upcoming demand, as well as compare previous forecasts to actual results. Comparing previous forecasts to actual results will improve your future demand prediction accuracy.
Restock points
Instead of always keeping an eye on stock, the software reminds you when you're low on a product. Of course, you'll have to determine the threshold for "low", but it's always modifiable, never permanent. This is where you'll apply accrued economic knowledge, trend and other research.
Multiple marketplace integration
Multiple store integrations allow tracking inventory across all of your stores. The software automatically updates the remaining stock after each sale and you don't have to worry about overselling anymore.
Even if you add ten stores, the system must be able to handle it correctly and save your precious time. Besides, with multiple store integrations you can manage all your stock on one centralised dashboard. Moreover, when your stock is always accurate, you gain more trust from your customers and can easily add product kits.
Product kits are sets of items that you sell as a bundle. The best system should automatically monitor the bundle. If one of the ingredients runs out, it should mark the whole bundle as out of stock.
Shipping
Almost automatic shipping carrier selection. Creates shipping labels and tracking info for you.
The software fetches customer and shipping carrier information presenting you with ready-to-print shipping labels. It also takes care of tracking. Using software like Multiorders even reduces shipping costs when using USPS, because it automatically applies the Commercial Plus pricing plan. One of the most useful features for merchants particularly based in the US.
Order management
All it takes to process an order is a few clicks.
Inventory management software integrates with your sales channels (eBay, Amazon, Shopify, etc.), as well as shipping companies. These integrations provide the software with every bit of data needed to complete orders with zero hassle.
Inventory control and updates
Replaces all manual stock updating.
The data feed is the heart of inventory management programs. It's essentially a database that contains all the data of your products. When the information changes through any means (say, a sale happens), it is immediately updated. The data feed file, well, feeds data to all your sales channels. It also uses this information to provide you with some other neat features.
If you set up reorder points for your products (which you should), anytime you'll run low on stock, an alert will pop up. It will offer you to send a purchase order to your supplier. Complete this process in a near-instant, instead of the tedious few minutes if done manually.