Shipping management software
Shipping is a crucial part that affects your overall business success.
Why would you need a Shipping Management Software?
Shipping greatly impacts your customer's feedback and comments. An On-Time delivery increases your ratings and leaves you with a satisfied customer, while a late one brings negative feedback and poor reviews.
Let's talk about Multiorders, the best shipping management software and how it will increase your sales.You won't need to worry about double-checking address or customer details before shipping. The system will do it for you, and it will do it many times faster. This will not only improve your order fulfilment speed but also eliminate any possibility of human error.
Best shipping carriers

Fulfil with a few clicks

Any order despite it's originating marketplace

Print labels

Tracking numbers

Reduce shipping rates
Best shipping carriers
The best shipping management software has to provide you with the best curriers to ensure on-time delivery and great customer service.
That is why Multiorders has integrations with – USPS, FedEx, UPS, Royal Mail, myHermes, Parcel2Go, DPD and Parcelforce.
Fulfil with a few clicks
As soon as you receive an order, all you need to do is choose your shipping carrier and Multiorders will do the rest.
There is no need to manually copy information from your marketplace order to your carriers booking screen. All you need is Multiorders connecting everything in a single dashboard.
Any order despite it's originating marketplace
Multiorders has integrated all of the most popular marketplaces, such as eBay, Amazon, Shopify, Etsy BigCommerce, Magento, and more.
This guarantees the ability to fulfil orders with just a few clicks, you only need to choose shipping carrier and rates.
Print labels
Multiorders enhances your whole fulfilment process. As soon as you choose your shipping carrier, your label will ready in seconds.
And with Multiorders ever-growing custom label list you can print these on a wide variety of different sizes and shapes or get a custom label made for you on request.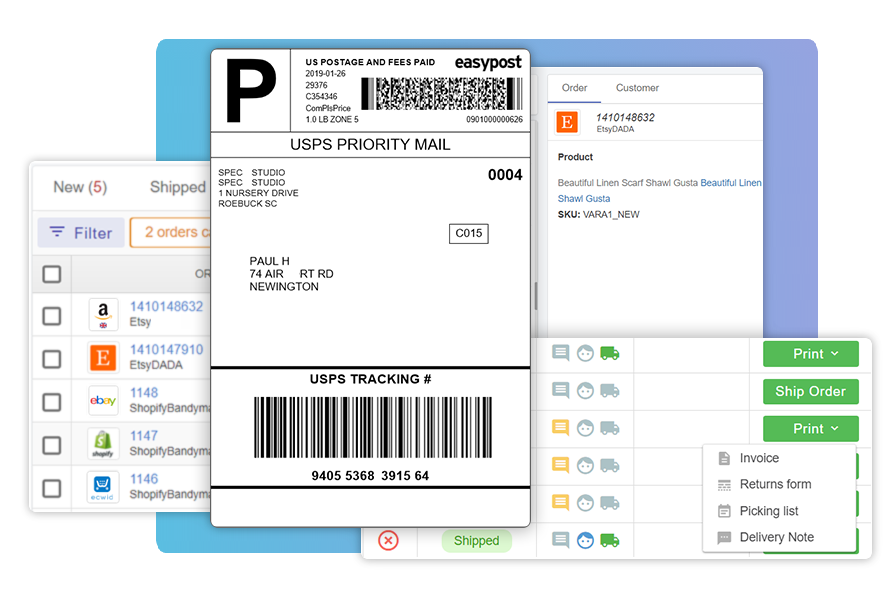 Tracking numbers
The best shipping management software takes care of all order fulfilment, including auto-updating orders with the latest tracking and courrier information.
Additionally, you don't have to worry about informing your customer, because a notification will automatically be triggered.
Reduce shipping rates
Multiorders offers you USPS Commercial Plus pricing without any additional requirements as they sign up.
This way even new online sellers can have the best shipping rates. Multiorders is not only a solution for automation, it is also a way to streamline and improve your business management process.