Multichannel management software
Keeping accurate stock levels is the most important part of any e-commerce business
Multichannel Management Software?
Keeping accurate stock levels might seem easy at first it, but once you take into consideration all the other tasks that come with managing a business, it can become quite an annoying time-sink.
Now imagine adding one or more stores to that list. The time it takes to keep up with inventory management grows exponentially. That's why you need to use Multiorders inventory management software.
Single dashboard

Multiple marketplace integrations

Inventory Control

Product Merging

Bundling / Kitting

Multiple shipping carrier integrations

Amazon MCF
Single dashboard
Connect all of your stores and manage everything in one place. In Multiorders you will get your orders, inventory, shipping carriers, reports, statistics and customer information.
All in one, easy to navigate, neatly organised place.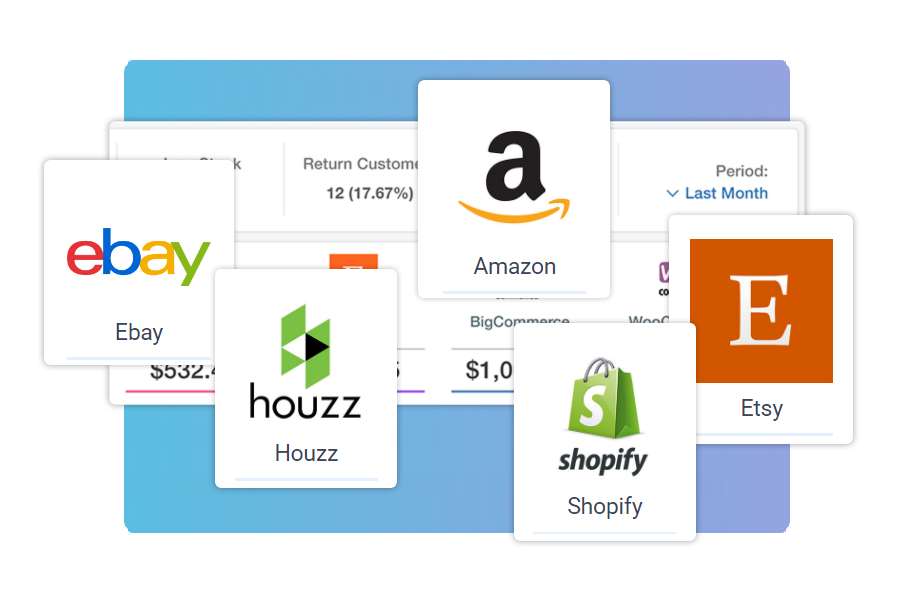 Multiple marketplace integrations
In order for you to be able to manage inventory efficiently, Multiorders allows you to integrate an unlimited number of marketplaces and e-commerce platforms.
The inventory from all of your stores will be pulled into one dashboard, which allows you to efficiently keep track of your stock, without having to constantly switch between multiple accounts.
Inventory Control
In Multiorders multichannel management software you can keep track of every single product from all of your stores on any sales channel.
Once you update pricing information or available stock levels, the system will instantly update the relevant marketplace.
Bundling / Kitting
Once you add items into a bundle, Multiorders automatically adjusts the stock of those items when the entire bundle or just a part of it is sold.
Once one component runs out of stock, the whole bundle becomes unavailable, so you don't have to deal with surprises when you sell a set of items and one of them appears to be out of stock.
Multiple shipping carrier integrations
Multiorders provides you with the ability to choose from a large variety of shipping carriers and fulfil your orders in just a few clicks.
You can work with some of the most known names in the business, which include USPS, UPS, RoyalMail, FedEx and others.
Once you click ship, your order gets updated with a new status, you can easily generate a shipping label, buy insurance and book a pick-up.
Amazon MCF
Owning or renting a warehouse is quite a big commitment to a small or medium sized business owner. That's why Multiorders gives you the ability to fulfil your orders from Amazon's warehouses.
Multichannel fulfilment by Amazon is a great way to avoid the investment required for a warehouse or any other self-storage solution.
Product merging
If you sell the same product on multiple sales channels, it can take a large part of your day just to update stock levels once an item gets sold somewhere.
Multiorders saves you from this routine, by offering you the ability to merge items from different marketplaces and automatically updating stock when one of those merged items gets sold.