Inventory management software
Keeping accurate stock levels is the most important part of any e-commerce business.
Why would you need an Inventory Management Software?
Keeping accurate stock levels might seem easy at first it, but once you take into consideration all the other tasks that come with managing a business, it can become quite an annoying timesink.
Now imagine adding one or more stores to that list. The time it takes to keep up with inventory management grows exponentially. That's why you need to use Multiorders inventory management software.
Multiple marketplace integrations

Instant updates

Product merging

Purchase Orders

Supplier Management
Multiple marketplace integrations
In order for you to be able to manage inventory efficiently, Multiorders allows you to integrate an unlimited number of marketplaces and e-commerce platforms.
The inventory from all of your stores will be pulled into one dashboard, which allows you to efficiently keep track of your stock, without having to constantly switch between multiple accounts.
Instant updates
Just seeing your products in one place is not enough. Any updates to product prices and stock levels will instantly reflect in the corresponding marketplaces.
Product merging
If you're selling the same items on multiple sales channels, you need to make sure that the total available stock is correct in every shop. Doing this manually would take hours of constant monitoring.
With Multiorders, once a merged product is sold in one store, all other connected stores will be updated to show the new stock level. This way you will never be at risk of overselling.
Purchase Orders
Multiorders inventory management software automatically fills out all the necessary information and sends the purchase order to your supplier.
Once you receive your items, all you have to do is click "Receive order" and your stock levels will be automatically updated in the Multiorders dashboard and pushed into the relevant stores.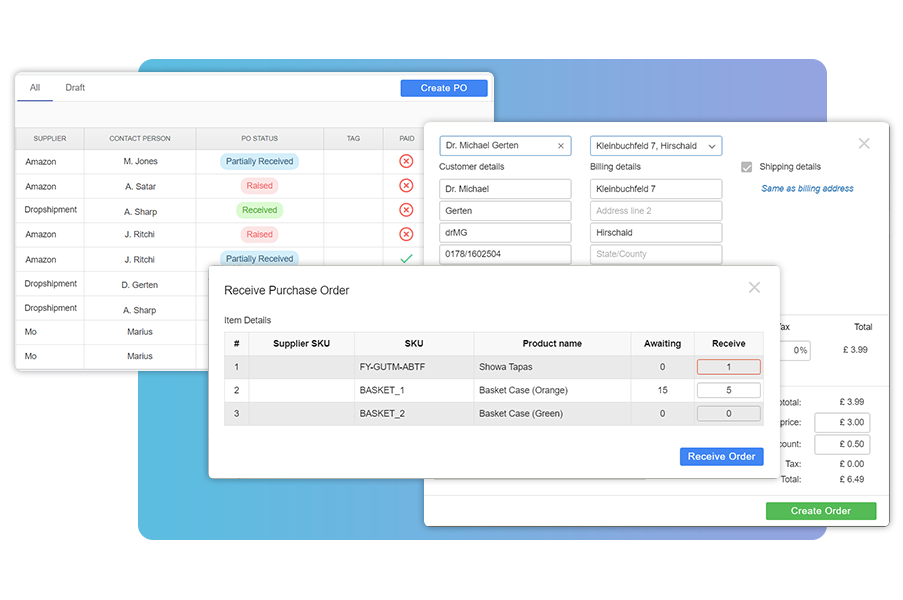 Product bundling
When a bundle is sold in Multiorders, you will automatically see changes made to your available inventory.
Also, if a component is sold separately from the bundle, Multiorders will deduct stock accordingly and adjust the total number of bundles that can be made from the remaining stock.
Supplier Management
By using Multiorders inventory management software you can forget having to contact each of your suppliers separately or filling out loads of different forms for each one.
Now, you are able to add your supplier details into Multiorders and easily order more inventory with just a few clicks.