Managing invoices for your customers is one of the seller's daily tasks, but it can be a burden to an Etsy seller. Therefore, you have to find out how to automate Etsy invoice – generate and send it with no obstacles. In this article, you will find an easy way to do it quickly, efficiently and without spending much money on complicated programs.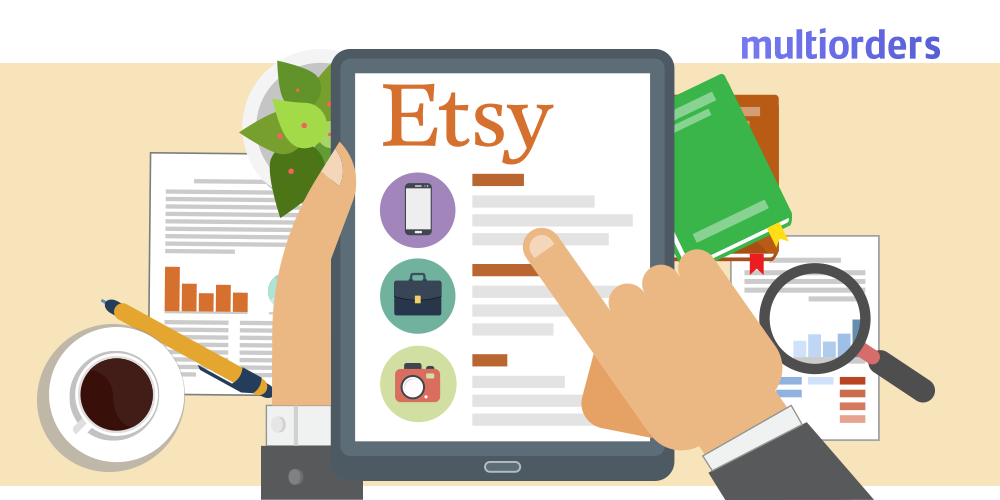 How to print Etsy Invoice?
The main problem of printing Etsy invoices is that it takes several steps to do it and you cannot complete this task in a bulk action. In other words, it is a complex action, which leads into a single order's invoice, and if needed, you have to repeat it to get into another order. It takes a lot of your time, especially if you make many orders and need to get multiple invoices.
Another struggle is when you need some custom solution on a particular invoice. For instance, you need to provide or hide some of the information on your invoice. Etsy restricts these options, so custom invoices are unavailable there.
Fortunately, there is a way to get it all – combine efficiency and functionality, by using a software solution. Multiorders software offers you a faster way to get Etsy invoices, print them in bulk or even create a custom invoice. There are two ways – try to do it on Etsy or make it faster with the software.
What are the benefits by generating Etsy invoices through software?
Less manual work. Certainly filling in a template is a task that every merchant wants to get rid of. Doing it manually requires not only more time, but also concentration. Without focus, you can make many mistakes, which will be a burden to you and your customer.
More free time. Using software to generate invoices will definitely cut your time costs. This could be a massive help if you are used to creating invoices manually. Also, you can print invoices in bulk, which saves you even more time. Therefore, you should use Multiorders to generate your Etsy invoices.
Custom invoice. Multiorders allows you to create a custom invoice. That means, you can choose what kind of information to provide or hide in your invoice. Also, you choose a custom invoice layout that fits all your requirements. In the "settings" section choose the preferred template and print your invoices.
Easy Way to Generate and Send Etsy Invoice
If you find generating and sending invoices confusing, worry no more. With Multiorders you can do this in a few seconds!
Multiorders is an order management platform, where you can connect multiple sales channels and shipping carriers. This helps manage everything from one place. Multiorders offer plenty of different features, which you could use. One of them is generating and sending an Etsy invoice. All you have to do is: