Shopping trends
Nowadays, shopping online has become an integral part of shopping, as customers are able to access goods and services while being at home. Not only is it possible to buy goods from home, but also to start your own business, by utilising drop-shipping.
It means there is no need to buy neither a warehouse nor a store: the computer might be the only tool you actually need. One way of doing it is drop-shipping - a retail fulfilment method, which eliminates the need to keep the products a company sells in stock.
Why drop-shipping?
First and foremost, as I have mentioned before, the main reason why you should be interested in utilising this e-commerce method is that you do not have to buy your own warehouse to stock products.
Besides, it requires a low capital to start a business. As a consequence, all you need is a computer, the internet and personal qualities to manage contracts, deal with clients, as well as run your e-shop.
Drop-shipping advantages
Location. Imagine, your office could be located wherever it is convenient for you. For example - you can start working at home while eating your breakfast, in the afternoon you can go outside, sit in your favourite café, or, if the weather is good and you have a portable internet, you can easily transform a local park into your office. What is more, you could even travel and work at the same time!
Price. An obvious advantage is a retail price, which is far lower than a usual buyer's price. Moreover, drop-shippers are usually not bound to a suggested retail price (which is called MSRP), which gives you an opportunity to set your own price. In addition to this, it might result in a fast growth of sales, but you will be able to control your own margin.
Identity. In certain cases, if you sell a lot of products, you can arrange custom packages in order not to look like a reseller. Which will make your company look unique and gives some identity.
Drop-shipping risks
However, opportunities are unimaginable without risks, and drop-shipping is no exception. The main challenge you may face in this business is to maintain a good reputation of your e-shop. Since customers are not able to touch or try a product, the only thing they rely on is comments and other buyers' feedback.
The possibility of damages during shipment
There are some things which could cost your company its reputation. First of all, there is a possibility that you will face some quality issues. Being a drop-shipper, you cannot check the product before sending it to a client. You send an order to your vendors, and they, in their turn, send the ordered products directly to your client.
It means that while being shipped, a product may be damaged, which will result in client's dissatisfaction, with which you will have to deal.  the company will refund or replace the damaged good, but it usually takes time and might be the cause of late shipping.
How can you avoid that risk?
On the other hand, you can avoid this problem with an excellent customer service. It is essential to pay your attention to orders and check the shipping status for all the customers. Therefore, accuracy is a good means of prevention from a possible bad reputation. The key thing to remember is to pay close attention, support and empathise with your client.
How to manage customer service?
The most obvious way to manage it is to manually write all updates as fast as possible. Of course, if your business is doing well, these daily tasks would become difficult.
A smart move is to use multi orders management software. Program system would do time-draining tasks for you.
Multiorders can shut-down all drop-shipping risks.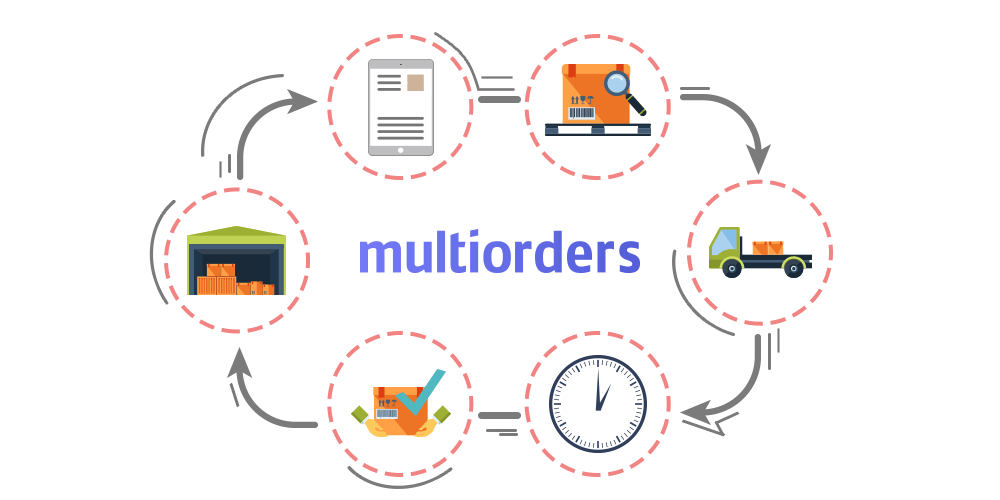 BENEFITS for drop-shipment
Stock-list. Using more than one selling channel means daily updates for each one of them. Imagine this, you sell on your website, eBay, Amazon and few more marketplaces. If your vendor sends updates for stock-list, you need to pass this information to each selling channel. With Multiorders, you can do it using only our website. We will update all product information: price or stock, without you logging separately into each marketplace. Multiorders software allows you to connect all your accounts.
PO and invoices. Multiorders manage all necessary information of your orders. As soon as you get an order you simply need to pick your drop-shipper and send Invoice or Purchase Order document.  In other words, you do not need to search for the additional website for invoices, PO, or payments. You can fulfil your order using Multiorders. It saves you writing essential formal emails, as well as using a different program for it.
Multi-channel managing
As soon as you "sign in" into Multiorders, you simply add your drop-shippers (vendors, whom you are working with). Add their name and email address. With this information, Multiorders automatically deal with your order fulfilment.
Furthermore, at inventory section, you can update all information about price or stock-list, which instantly appears on your marketplace.
Drop-shipping
All things considered, drop-shipping could be one of the easiest businesses to start, especially when Multiorders erases risks. That is the fastest way to achieve a perfect customer service. It allows you to work from wherever you want and plan your vacation. All in all, drop-shipping might indeed be the answer to your question "How to start a successful business?".
---