Nowadays, shopping online has become an integral part of an entrepreneurs business. For this reason, there are a great variety of sustainable marketplaces. Some of them are celebrating their twenty-something birthday, and others are online just for the decade, like Bonanza. Despite their youth, they managed to gain popularity and reach about 6.4 million shoppers. In this article, we will explain how to manage and control Bonanza shipping and label printing.
Bonanza marketplace
Bonanza is a fast growing marketplace, which is notable for their simplicity. It is a platform where shoppers can purchase products from every category. Bonanza also offers free tools to make your selling more transparent. To mention a few – customized marketing campaign tools, automatic background image removal tools, etc. At this moment more than 25.000 sellers decided to run their business on Bonanza.
Bonanza – how to use it?
The best thing is that registering in Bonanza is free! Even more, they do not require to pay any monthly fees. So, to start a business, you simply need to register. As soon as you receive your first order, Bonanza claims 3.5% of your sales price ( if final offer value is under FOV).
Also, if you are currently working with other marketplaces, such as eBay, Amazon or Shopify you can auto-sync your existing inventory. In other words, automatically import your products to Bonanza.
Bonanza – placing an order
The most important thing in listing your products is selecting the right category. Bonanza offers an enormous amount of categories and subcategories, as well as the ability to create custom categories. To make your goods stand out even more, Bonanza suggests 5 different advertising levels:
Economy – which is necessary to start selling and includes – 3.5 % fee, as mentioned before. Your products will be placed in organic traffic.
Basic – this one costs 9% of the price per each sold product. This way, your products will definitely reach 1.2 million shoppers.
Standard – claims 13% fee and extends your outreach to 2.5 million buyers
Superior – with a 19% fee for each sale, you get the reach of 4.1 million shoppers
Elite – this one costs 30% of each order, but with this advertising level you will reach 6.4 million shoppers. In other words – all Bonanza buyers.
Bonanza shipping
Usually, marketplaces do not have their own shipping options. Because of that, you have to look for a suitable shipping carrier. This research and order fulfilment through a few websites will drain your time. A third party helper – shipping management software, is the most efficient solution to simplify your business.
You should choose a multichannel system, such as Multiorders.
In other words, our software has integrations with all of the most popular shipping carriers.
Connect your Bonanza account and ship products with any of them. As soon as an order is received simply click on the chosen shipping carrier.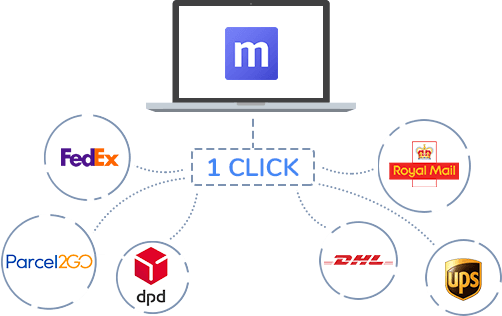 The most popular shipping carriers are ready to fulfil your Bonanza shipping. Even if you are using Amazon FBA storage, you can sell on Bonanza. This function is called Amazon MCF and allows you to use Amazon's stock, but sell on different marketplaces. Multiorders has the Amazon MCF integration which allows the arranging of that shipping method.
Bonanza order fulfilment
Multiorders simplifies shipping, as well as automates it. As soon as you proceed to Bonanza shipping, all shipment tracking data is auto-synced. Multiorders system automatically adds tracking information to Bonanza marketplace and additionally informs the customer. That way, the online seller won't need to check and update any shipping information.
The Multiorders dashboard allows printing of shipping labels in bulk for all Bonanza orders. In this way, it saves your time on printing them for each parcel. Multiorders created a time-efficient way to control all of your shipments.
Bonanza inventory management
Multiorders created an adjustable inventory management system for Bonanza. In other words, you can change your stock-list, pricing or product description and it instantly appears in your marketplace. You can make changes in bulk, without switching from one product to another. A single dashboard for all your inventory will simplify your inventory management.
Bonanza and other sales channels
There are online sellers who do not limit themselves to a single marketplace. As Bonanza allows you to import your inventory from a few other sales channels, Multiorders offers you multiple order fulfilment. In other words, our software has integrations with nearly all e-commerce platforms and marketplaces. As soon as you connect your accounts you will see all your orders in one dashboard.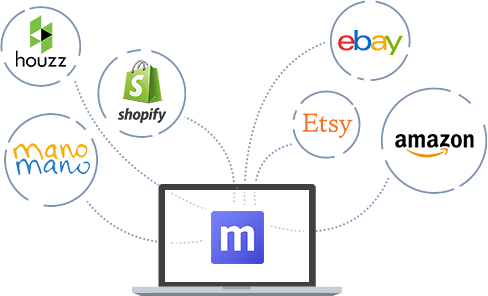 Inventory management and tracking detail updates also work in the same manner as Bonanza shipping. Multiorders allows you to choose from all shipping carriers to fulfil your orders, despite their originating marketplace. Control, ship and update through Multiorders.