Rapidly growing e-commerce causes a big competition between different marketplaces. Bonanza was launched in 2007 and already gained many competitive advantages. As well as rewards for being "The best place to sell online" in 2012, or "Most recommended marketplace" in 2016. Online sellers should thoughtfully consider starting to work with this marketplace and get access to 6.4 million Bonanza shoppers! In this article, we will explain how to control Bonanza inventory the easiest way possible.
About Bonanza
The main focus of Bonanza is to create a niche marketplace for unique products. There you can find "hard-to-find" goods, such as collectable artwork, crafts, clothing. Despite these exclusive categories, Bonanza has more typical products, such as electronics, sporting goods, books, etc. They sell new, as well as pre-owned items. At the moment Bonanza has about 25.000 sellers and as mentioned before reaches more than 6 million shoppers.
Bonanza inventory management
First of all, you should be aware that registering in Bonanza is free! Even more, they do not require to pay any monthly fees. So, to start a business, you simply need to register. On the other hand, for each sale, there is an additional fee.
If you are currently working with other marketplaces, such as eBay, Amazon or Shopify there is a way for auto-syncing your existing inventory. In other words, you can automatically transfer your products to Bonanza. The management system of Bonanza inventory allows only importing from other marketplaces, but doesn't allow you to manage any other inventory. For this reason, a third party inventory management software is the most efficient solution to simplify your management.
You should choose a multichannel system, such as Multiorders. In other words, our software has integrations with all the most popular shipping carriers. Connect your Bonanza account and manage all your inventory in a single dashboard.
Multiorders created an adjustable inventory management system for Bonanza. In this manner, you can change your stock-list, pricing or product description and it instantly appears in your marketplace. Also, you can make changes in bulk, without switching from one product to another.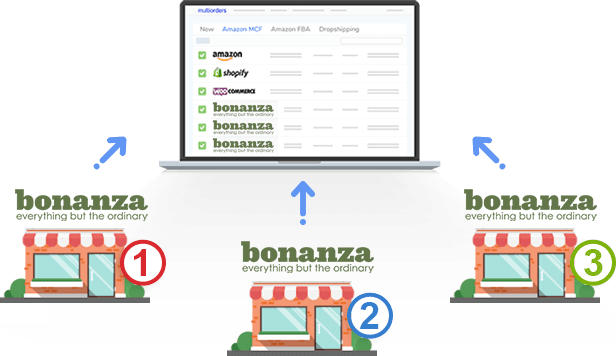 Bonanza shipping
Bonanza does not implement any shipping system or partner with any shipping companies. For this reason, online sellers have to look for a suitable shipping carrier. This research and order fulfilment through a few platforms might become very time-consuming. That is why Multiorders created integrations with all of the most popular shipping carriers. Connect your Bonanza account and ship your products with any of them. As soon as an order is received simply click on the chosen shipping carrier.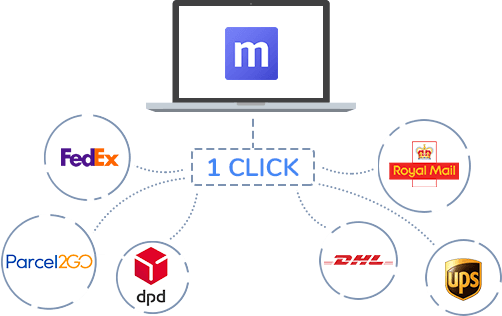 Bonanza order fulfilment
Despite the capability to manage your inventory and shipping in one single dashboard, Multiorders also is an order fulfilment system. As soon as you proceed to shipping your order, all shipment details and tracking data is auto-synced. Our software automatically adds tracking information to the proper marketplace and additionally informs your customer. That way, the online seller won't need to check and update any shipping information.
Multiorders dashboard allows printing of shipping labels in bulk for orders from all of the most popular marketplaces. This way, it saves your time on label printing for each parcel. Multiorders created a time-efficient way to control all shipments.
Bonanza inventory management

All shipping companies

Connect with other sales channels

Tracking number

Printing labels

All inventory – one dashboard